V Región
San Antonio
Location: To the east of Maitencillo immediately atras. takeoff of Victor Carrera.
Access (s): Dirt road arrives at the takeoff raising by the way of San antonio, way that is located before the customs officers of Puchuncaví.
Conformation: Hill extension of the -600 coast mts of unevenness.
Takeoff (s): clean "earth" or on "grass" is used according to agrees, quite comfortable. Lat/Lon:
Top landing: dificil if the suitable height is not had, very small.
Unevenness (TM): -600?ASL/AGL
Landing (s):potreros is seen from the takeoff. Conditions: ThermalDínamico and. Precautions: North wind.
Restrictions: Private place is necessary to ask permission Victor Carrera that is the owner of the takeoff
Flying period: In Summer one makes sure plus the Marine breeze, but there is good days the rest of the year according to the climatic conditions.
Commentaries: Good place for thermal soaring and for school, the slope is high and full of you hoist in general arustos thorny some days usually they reach good thermal and it has been arrived near the beach.
Tandem Zone
Chile's Tour Zones
---
Photo Gallery
---
Google Earth's Images
---
---
---
*Required fields
---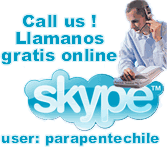 ---
---
I Región

II Región

III Región

IV Región

V Región

VI Región

IX Region

X Region

Metropolitana

---
---
---