X Region
Ralun
Location: Between the Ralun and Cochamó Region of the Lakes, near the coast.
Access (s): Taking some route between Ralun and Cochamó to 5 kilometros from the bridge, it is arrived at foot to some possible takeoff in the slope faced the South west next to the entrance to the sea,also a small section is due to raise foot in the hill to arrive at the takeoff at half of hill, the way for car is good.
Conformation: Leafy slope next to the lake oriented to the South of about a 400-500 meters of height with an extension of some kilometros, where this is cut also is a oriented to South but located hill more back.
Takeoff: Two pseudotakeoffs have been proven, faced well and to have trees ahead, and the other is very low, the suitable takeoff this located in a footpath that raises from walking near of the houses,no se alcanzó a probar, pero está bien enfrentado y tiene suficiente altura, solo falta quitarle unas malezas para poder estirar la vela. El despegue de cerca del camino por otro lado ya fue probado y es excelente.
Top landing:Muy easy

Unevenness (mt):?170 ASL/AGL
Landing (s): Next to the highway where it finishes the lake as opposed to the takeoff is manifold potreros.
Conditions: In Summer a good wind SW predominates that leaves at noon along with good thermal, the rest of the year not.
Restrictions:.
Faying period: Aside from the summer I do not have idea.
Commentaries: The place to has been flown very little, has good potential, perhaps until making certain distance, the safe thing is a good flight with thermal and pretty landscape.
Tandem Zone
Chile's Tour Zones
---
Photo Gallery
---
Google Earth's Images
---
Weather.
MYSQL CONNECTION FAILED!
WRONG PARAMETERS!
---
---
*Required fields
---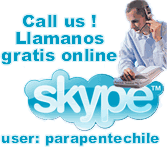 ---
---
I Región

II Región

III Región

IV Región

V Región

VI Región

IX Region

X Region

Metropolitana

---
---
---